Yes, mailparser.io is capable of reading .eml files and there are two ways to import your EML files into mailparser.io.
Attach EML files to an e-mail and send the e-mail to your inbox
Directly upload them with the app
Forward old emails as .eml attachments
This method is by far the easiest. All you need to do is to send a new email to your @mailparser.io inbox to which you attach your old emails as .eml attachments. Please make sure that the .eml files are actually attached as separate files and not embedded in your e-mail body text.
If you are using Apple Mail, just select the emails you want to import to mailparser.io, then click right and choose "Forward as attachment".
To ensure that all your emails end up in your inbox, please send only a couple of hundred emails at a time. The number on how many emails you can import in one batch depends on their size. As a rule, your new email containing the attachments should not exceed 8MB.
Upload a batch of .eml files directly
For our higher-tiered subscription customers, we offer the possibility to directly upload .eml files into the app. The feature can also be enabled for free trial accounts and lower pricing tiers in case you just want to import a batch of old e-mails once. Please just contact us and we will enable it for you.
If the feature is activated, a button can be found in the upper right corner of the e-mail list indicating 'Import .eml files'. You have then the possibility to drag & drop or select your .eml files from your hard drive.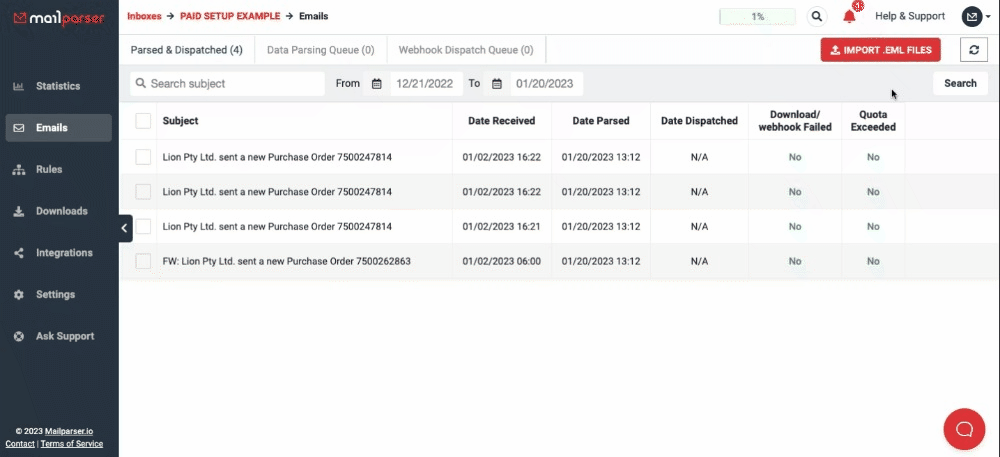 In case you are wondering how to get your e-mails in EML format, please read our e-mail to eml blog post which contains directions for various e-mail clients.